Personal Fitness Trainer Brampton | Kinesiologist Brampton
"Hi,
I'm Shan, Owner of Train Smart Fitness and Health. I believe that each person's journey to better health and fitness is unique. I had and am still on my own unique journey. I'm here to help you navigate through yours.
Here's a little bit about myself:
After finishing high school, I wasn't happy with the direction that my life was taking, so my first step was to get control of my health, fitness, and physical appearance.
It wasn't easy and I had to confront a lot of obstacles, but by staying the course I was able to succeed. More than that, it enhanced my mood, and I felt more confident in my abilities. I was now motivated to take on more significant challenges, so I enrolled at York University to study Kinesiology.
This one decision; the decision to take action led to me becoming a Kinesiologist, Exercise Physiologist, and stepping in the ring for the first time.
My mission is to use what I've learned and practiced over these years to help you to help yourself, achieve a healthier lifestyle. Through a healthy lifestyle you will realize how many opportunities there truly are to find fulfillment and success."
Our Fitness Training Services Include: Virtual Personal Fitness Training | In-Home Personal Training | Online Personal Training | Weight Loss/ Fat Loss Training
Certifications:
Registered Kinesiologist with the College of Kinesiologists of Ontario
Certified Exercise Physiologist with the Health & Fitness Federation of Canada
Agatsu Kettlebell Level 1
Certified Pre- & Postnatal Coach with Girls Gone Strong
Certifications being pursued
Online Trainer Academy Certification with Personal Trainer Development Center
---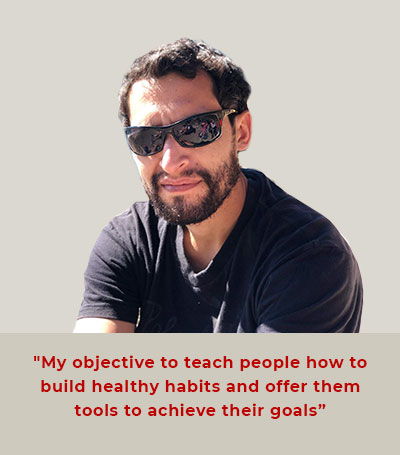 I am Pablo a Physical Education teacher from Argentina with a specialty in Sports for People with Disabilities from Leipzig University in Germany. I am also a CPTN-Certified Personal Trainer and an International Goalball Referee and NCCP registered coach.
I have more than 15 years of experience as a Personal Trainer and Pilates Reformer Instructor. I have been employed in several gyms and have also worked self-employed. I have around 10 years of experience in training people with disabilities, working initially for an Argentinian Government department called National Disability Agency and then in other private establishments.
I have also worked as a Goalball Referee and Coach since 2015, participated in the organization of tournaments in the same sport for several years in Argentina, also certified by the International Blind Sports Association as a Level 1 Referee."